About a week ago, I posted about winning the
Hamlet 2 contest
that Cinmetical had running to generate some buzz for the indie comedy that's coming out on August 22nd.
Well, I finally got the package in today and this is what was sent: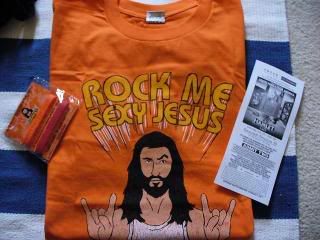 From left to right: Hamlet 2 wrist bands, the Hamlet 2 T-shirt (Large so I probably won't be wearing it anytime soon), and 2 tickets for the special screening at San Diego Comic Con.
It's a really cool package, and my sister and I are definitely stoked to go check out the film. And to all my readers (if there are any yet), I'll post up my thoughts and maybe a mini review if I have time.
Alright, I have to get packing for the convention because I'm heading out sometime tomorrow.
Take care.