I am aware that I did not update my blog nearly as much as I should have during the convention. However, with night time movies, a ridiculous amount of walking, and just the pure exhaustion that comes from going to Comic-Con, I didn't have time (or the energy) to write anything coherent.
But now that I've had the whole day to copy and paste photos, scan commissions, and unpack the amazing amount of swag that I picked up at the convention, I'll write a bit about the last few days plus post up pictures that are noteworthy.
So here are some photos and comments during the convention:
Super long line to get into the heroes panel (unfortunately, I wasn't able to get in)
Huge Pikachu in the convention hall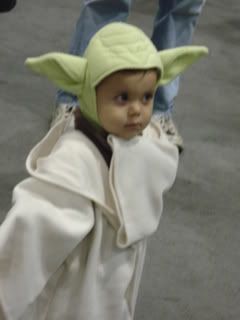 Super cute yoda girl.
Batman and Robin (Lego Version!)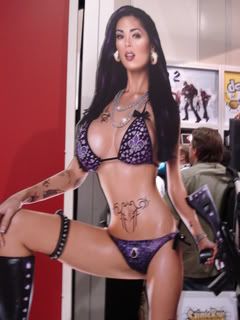 Tera Patrick poster for a Saint's Row Promotion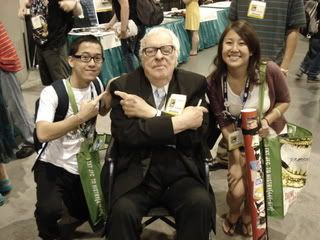 Ray Bradbury...the legend himself.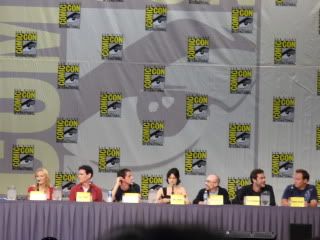 The most of the Watchmen Panel.
From left to right: Malin Akerman, Billy Cruddup, Matthew Goode, Carla Gugino, Jackie Earl Hardy, Jeffrey Dean Morgan, Patrick Wilson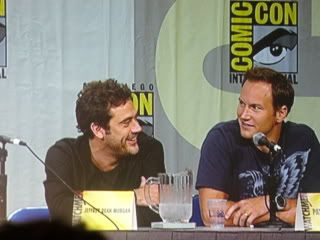 Denny Duket from Grey's Anatomy and Raul from Phantom of the Opera
Entertainment Weekly: The Visionaries Panel
From left to right: Kevin Smith, Judd Apatow, Zack Snyder, and Frank Miller
Seth Rogen and Elizabeth Banks promoting Zack and Miri Make a Porno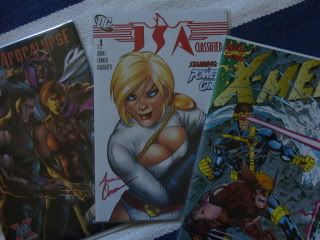 Signed Comics: Age of Apocalypse One shot (Mark Brooks), Justice Society of America (Amanda Conner), and X-men #1 (Jim Lee)
V sketch by the legendary David Lloyd. It seemed as if no one knew who he was, which allowed me to really talk to the man. This was a huge surprise for me and made the convention worth it in a matter of moments.
A collaboration piece between Aspen's
Ale Garza
and Wildstorm's
Oliver Nome
. I really love how this one turned out and when juxtaposed with Stuart's Rogue, the two pieces show a really great comparison of two very different styles and interpretations of Rogue.
Finally got a commission from
Stuart
, and it's a really lovely piece. With Ale's and Stuart's pieces, I've decided to fill that sketchbook with commissions with Gambit and Rogue.
------------
Head on over to
Facebook
to see even more photos.